Electric Actuators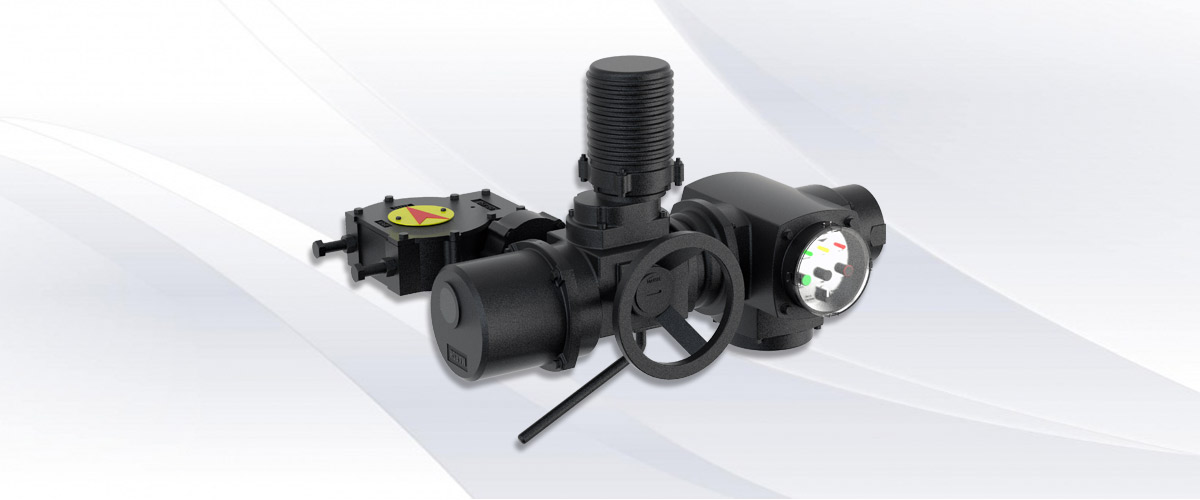 Electrical Actuator, - Multi Turn Actuators, Electric Actuator Manufacturer in India
We are Manufacturer, Supplier, Exporter of Emtork Electric Actuators, Electrical Actuators, Electrical Actuator With Starter, Electrical Actuator With Worm Gear Box, Electrical Actuator With Spur Gear Box, Electrical Actuator With Bevel Gear Boxes. Our set up is situated in Pune, Maharashtra, India and we provide our products and services to ALL OVER THE WORLD.
Applications
The "

" Electric Actuators are electromechanical units used for operating the final control elements like valves or dampers to control the flow of fluids flowing thru the pipes or ducts. The specific advantages of using these units are :
Ease of operation.
Remote control facility.
Proportional action of final control element in close loop system.
Attaining & holding the desired preset position of the valve/damper.
Various indications & alarms are available on the remote control panel & also on the unit.
Emergency manual operation possible in case of power failure.
Works on most convenient & easily available source of energy i.e. electricity.
Models available to cover wide range of valves & dampers.
Units with Integral starter will save cost of cables.
Units with Electronic controller will facilitate field programming.
Detail features of Electrical Actuators
Drive Motor:
Emtork Electric Actuators are equipped with three phase, squirrel cage induction motor having high starting torque. These motors comply with IS-325 specifications.
| | |
| --- | --- |
| Supply condition | 415 VAC, 3ph / 380VAC,3ph / 2 20 VAC,1ph |
| Enclosure | TEFC/ TESC |
| Class of insulation | std.'F' |
| Class of protection | IP55 / 65/67/68 |
| Duty | S1 / S2 / S4 |
| Ambient temp | 50° c |
Travel limit switches:
These switches are provided to cut off the actuator supply at the end of the preset travel in either direction. These switches are operated by cams which can be reset at site. Additional travel switches can be provided to get feed back of various valve positions
Torque limit switches:
These switches are provided to cut off the actuator the torque developed in the system is more than the desired preset value, in either direction. Torque switch in closing direction can also be set to achieve leak-proof / tight shut off of the valve.
Local indicator:
A continuous type mechanical local position indicator is provided on the actuator to show the actual mechanical position of the final control element.
Handwheel with motor overriding feature:
Emtork actuator is provided with a handwheel for emergency manual operation. The selector fork lever when put on to 'hand-position', disconnects the motor drive and connects to hand wheel drive so that desired operation can be done by hand wheel. When the motor is switched on, the hand wheel connection gets disengaged automatically and the operation is carried out by electric power.
Weather protection:
The emtork actuators are supplied with IP65/IP67/IP68 class of protection as per IS-4691 & IS-2147 duly certified by concerned authorities. The ingrace of dust and water is prevented to protect the inside mechanism.
Output shaft designs:
The basic rotary actuators are supplied A,B,C,D,E as per DIN 3210.
Hammer blow effect:
An inbuilt feature of the 'emtork' actuator and is achieved thru "lost motion principle" and by using higher starting torque motor.
Feed back potentiometer / transmitter:
A feed back signal, in terms of change in resistance or current proportional to the valve position, is available thru potentiometer or transmitter. A non- contact LVDT type transmitter can also be provided.
Remote indicators:
The signal coming from potentiometer is converted thru stabilized power source and read by analogue/digital on remote panel
Space heater:
An anti-condensation heater can be provided in the switching compartment while using the actuator in humid/damp environment.
Brake:
Electromagnetic or electronic brake can be provided for the motor to stop the actuator instantly
Control panels:
Various types of control panels can be provided for local, remote and combined local plus remote operations of the actuator.
Positioner:
Panel or field mounted electronic positioner can be supplied which can accept a control command of 4-20mA and position the final control element accordingly, 4-20 mA feed back signal is also available from the positioner.
Integral panel – electrical hardware logic
A reversing starter consisting of push buttons, indicating lamps, contactors, O/L relay etc. can be supplied as an integral part of the actuator. This will save a major cost of cabling. A parallel operation & monitoring from remote station is also possible. A field mounted valve positioner unit can also be supplied in the integral panel.
Integral panel - electronic PCB logic
Field programming thru electronic logic is possible by this integral panel. In addition to the electrical hardware various PCBs are provided to select the parameters such as inching / noninching operation, closing by torque switch etc. Parallel functions from remote station are also possible.
Blinker transmitter:
An actuator mounted transmitter can be supplied which will indicate that the actuator is in running condition, thru a blinking lamp on control panel.
Foot mounting brackets & set of linkages:
These items can be supplied to suit various site conditions so that the final control element can be operated from a distant location.
Thermostats in motor:
These are embedded in the motor winding so as to protect the motor from burning due to overheating of motor winding.
Source:
A field / panel mounted source can be supplied for converting 220 VAC to 12/24/36 VDC, supply which is normally required to energize a two wire transmitter.
Supplementary spur gear boxes:
To increase the output torque of rotary actuators various types of spur gear boxes can be supplied. These gear boxes have variety of reduction ratios & output couplings viz A/B/C/D/E as per DIN 3210.
Supplementary worm gear boxes:
Worm gear boxes can be supplied to convert the output motion of rotary actuator in to quarter-turn movement to suit the operations of butterfly, ball & plug valves. Various models are available with different reduction ratios. Out put coupling for these models will be normally 'E' for direct mounting & 'D' for mounting thru brackets & linkages.
Linear attachment:
To convert rotary motion into linear to suit globe valves, a linear attachment is provided for the actuator. Various thrust values are available to suit the applications.
Retrofitting:
To convert the existing manually operated valves into "motor-operated", retrofitting services are offered; which includes, site study, selection of equipment, spot measurement, designing & manufacturing mounting brackets, couplers, cabling etc. and installation and commissioning of equipment on turnkey basis. This will also cover the services of compating / synchronizing the system with control parameters of other instruments.